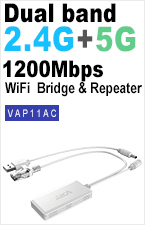 Hits:632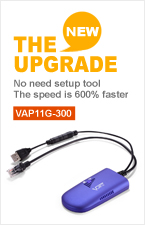 1. Support wide voltage DC5V-24V power supply, two-stage automatic overvoltage protection;
2. Suppot both 2.4G and 5G band;
3. RF power: 2.4G--15dBm, 5G 21dBm/23dBm optional;
4. Support WiFi transmission protocols such as 802.11ac and 802.11n;
5. WiFi transmission rate: 300Mbps (2.4G) + 900Mbps (5G);
6. Point-to-point barrier-free maximum transmission distance: 300 meters (802.11A);
7. WiFi hotspot memory, maximum memory 100 hotspots;
8. Support connecting more than 20pcs WiFi terminal at the same time;
9. Adopt temperature compensated auto frequency control technology (TAFC), WiFi signal is more stable and not easy to drop;
10. Original creation VDNS virtual domain configuration technology to solve the user's trouble of configuration;
11. Built-in heat sink with convection cooling holes on both sides of the housing for more efficient heat dissipation;
12. WiFi smart bridge function, WiFi to wired, wired to WiFi smart exchange;
13. Support manually close SSID broadcast, manually close WiFi hardware;
14. Support WEB management, Chinese and English configuration interface;
15. Support SSA signal strength detection and reporting function to realize WiFi mobile positioning;
16. Working environment temperature: -20 ° C to 55 ° C;
17. Built-in 2 high-power FEM and built-in intelligent automatic start/stop cooling fan;
18. Built-in heat sink, with convection cooling holes on both sides of the shell, more effective heat dissipation;
19. Support IP layer transparent transmission and MAC layer transparent transmission to meet various bridge applications;
IP layer transparent transmission (factory default), transparent transmission of IP layer data, can meet most of the bridge applications;
Transparent transmission of MAC layer, transparent transmission of all data above MAC layer (link layer) and MAC layer, including IP layer data;
MAC pass-through can solve some special applications for MAC layer encryption, such as AP managed by AC, GoPro camera, Cisco AP, Hikvision monitoring system, etc.
Protocol Standards

IEEE 802.11ac, IEEE 802.11a;

IEEE 802.11n, IEEE 802.11g, IEEE 802.11b;

Transmission rate

2.4GHz band: 300Mbps

5GHz band: 900Mbps

External interface

A USB/DC power cable;

A set of 10/100m adaptive Ethernet cable

Button

Reset button (long press 5 seconds, then release, the device will automatically restore the factory )

LED

Status instruction:

Ethernet port status light (Yellow);

2.4G WiFi connection status light (Blue);

5G WiFi connection status light (Green);

Antenna

Built-in 2pcs Smart omnidirectional 2.4G Antennas;

Built-in 2pcs Smart omnidirectional 5G Antennas;

Product size

93mm x 45mm x 25mm(L x W x H)

Item weight

78.8g